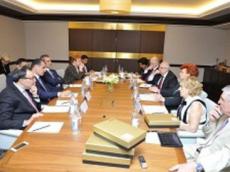 The Board of Directors of the Nizami Ganjavi International Center has held its sixth meeting in Baku.
Participants in the meeting included members of the Center`s Board of Directors - Vaira Vike-Freiberga, Ismail Serageldin, Tarja Halonen, Petar Stoyanov, Giuli Alasania, Walter Fust, Farida Allagahi, Ahmed Naseem Shah, Nazim Ibrahimov and Elmar Veliyev.
The meeting heard a report on the work carried out by the Center.
The Board discussed a draft academic program made by Ismail Serageldin, which covered a range of issues including the Center`s registration, budget, charter, and structure, as well as promotion of Nizami Ganjavi`s legacy, future projects and outstanding tasks.
The participants also shared their impressions of their meeting with Azerbaijani President Ilham Aliyev.
In her opening remarks, former Latvian president, Co-Chair of the Nizami Ganjavi International Center, President of the Club de Madrid Vaira Vike-Freiberga highlighted the Center`s work. She stressed the necessity of translating works by Nizami Ganjavi into different languages. Vaira Vike-Freiberga said President Ilham Aliyev`s care and attention were inspiring them.
She highlighted the issues she discussed with the Azerbaijani leader, saying President Ilham Aliyev backed the continuation of the Nizami Ganjavi International Center`s cooperation with its partners.
Member of the Board, chairman of the Azerbaijan State Committee for work with Diaspora Nazim Ibrahimov thanked Ismail Serageldin and Vaira Vike-Freiberga for "coming up with ideas concerning the Center and playing a tremendous role in making these ideas a reality in a short period of time".
Member of the Board, head of Ganja Executive Authorities Elmar Veliyev said Nizami Museum opened in Ganja, adding a ceremony was attended by the Azerbaijani President. He said construction of the Center`s office building in Ganja would be completed this year, expressing hope "our next meeting will be held there".
Co-Chair of the Center, director of the Bibliotheca Alexandrina Ismail Serageldin presented the draft academic program, which proposed creating the Center`s budget, drawing up an action plan, setting up sub-committees of the Board, promoting Nizami Ganjavi`s legacy, creating Academic Council and the Center`s website.

/Trend/