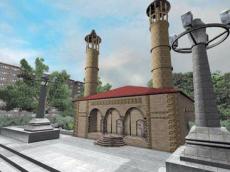 Translated by Mushvig Mehdiyev
Director of the "Azdimension" games company Farid Akhverdiyev spoke about computer games  in Azerbaijan in an interview with
Echo
, informs
Day.Az.
- Tell us, what is computer game for today?
- Computer games are no longer "toys", but a multi-million business, complete industry with its giants as Rockstar North, Ubisoft and others. Incomes from the games like Grand Theft Auto and Call of Duty tops revenues of the Hollywwod bestsellers. It means millions of gamers, bunch of exhibitions and conferences, annual rankings, private TV channels, magazines etc. Computer games have rightly been recognized as an individual form of art, along with the theater, cinema and etc. by the U.S. government and American National Fund.  
And it means that video games industry will now be financed by the government on par with the film industry. Attitude by the minister of culture of France who pledged state support to its creators deserves the thumbs up in particular: "People have humiliated computer games too long by missing their huge creative potential. Call me minister of video games, if you want. I will only be proud of it." And SONY is not only TV sets and laptops anymore as its main income comes from Playstation. Microsoft with Xbox kicks its interest to Windows down. It's a pity that computer games have not their directors during production process, they are given birth by team work. If there are directors, then the creator of "The Last of Us" will no doubtedly be named the best instead of Lucas and Cameron. 
You can read the full interview at
Echo.Az.