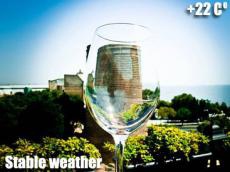 Dominantly overcast weather will be interrupted by short-term rain in Baku and Abhseron peninsula on April 22. Soft north-western wind is expected. The temperature will be +9-13C at night and +17-22 in the noon.
Weather to birng lightning and rain to several Azerbaijani regions. Eastern blow to be observed. The temperature will be +9-14C at night and +19-24 and in the noon, while +3-8C in mountains at night and +13-18C in the noon.
Seasonal weather condition along with normal daily course of the biomoeteorological determinants to be suitable for meteosensitive people during the next 3 days.

/Eco.Gov.Az/