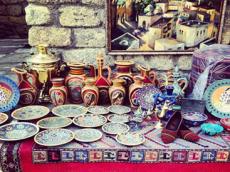 By AzerNews
It is true that buying souvenirs for yourself and friends is an essential part of any trip. Even though souvenirs are mostly turning into a dust collector, people cannot stop buying "little memories" on their journeys.
Sure enough, you or your relatives can do without Eiffel Tower key chain, or "I love NY" hats and T-shirts. Which one of us would like to have another "Made in China" souvenir, not representing Asia at all?
However, millions of people continue to spend not only tons of money, but also a bulk of their time on the last day of their trip on filling the empty places that accidentally appear in their luggage.
Looking at the brighter side, the souvenir-buying hobby is not such a bad habit if you approach it individually and find some really memorable, useful things. And Azerbaijan is the very country you can find such memorable and especially original things in!
There is no doubt that you can find many standard souvenirs in Azerbaijan as well. But if you want something special, put all those fridge magnets, cups and other boring monotonic statuettes aside and think about what all the fancy things you can buy in Azerbaijan to remember this country with love when you're back at home. For this purpose, you must not only visit the tourist traps in the capital city, but also travel around the country!
Even if you have stayed in Azerbaijan for a week, you already know that one of the classiest souvenirs from this country is a carpet. There is a wide variety of them, so you do not have to buy a large one and can definitely afford a showy rug for your kitchen. Regardless of the size or the design, they are all picturesque and cozy.
Fashionmongers can find exceptional silky scarves of vivid colors called kelagayi, one-of-a-kind tapestries bag, and handmade embroidery.
A "must buy" for national dress lovers are furry hat -papaq, woolen socks- jorab, vests- kurk, fancy footwear -chariq, and carved daggers.
Those who decide to spend money on a more valuable thing must pay attention to the Azerbaijani national jewelry of ineffable beauty. Famous shabaka, khatamkaliq and minachiliq diversities of jewelry art will definitely evoke warm feelings in every woman.
You can also treat yourself to sophisticated oriental ornaments with scrupulous details in ceramics and woodcarvings, which will add a mysterious atmosphere to your house. Another symbolic thing to buy in Azerbaijan is backgammon, the favorite game of the Azerbaijanis.
Food lovers will not leave the country empty-handed. How can you leave without mellow fruits like date plum, fig, and pomegranate?
You must definitely treat your friends back home with the Caspian caviar, spicy narsarab, aromatic Azerbaijani tea, and famous wine. Otherwise, they will not forgive you for having visited this country of tasty food without them.
Do not forget these fortunes of our country when planning your next or first visit to Azerbaijan, and take a part of this colorful culture with you in your box of memories.