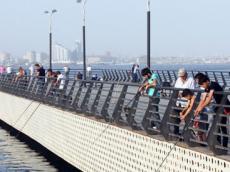 By AzerNews
Tourists who came to Azerbaijan this April and already checked the traditional bazaars were definitely amazed with diversity of goods offered here, fresh dairy foods and meat, fruits and vegetables and huge variety of fish.
Those who prefer fish may like to catch fish himself in the Caspian Sea, as well as many other rivers and lakes of Azerbaijani regions.
Fishing, one of the most ancient occupations around the world, which feed many people, nowadays is a wide scale hobby for the millions of people. Notwithstanding the fact that fishing became a ploy, anglers are still proud of their catch.
Do you want to meditate looking at the rhythmically fluctuating float? Maybe you want to supplement the collection of fish, you have catch so far. You can try both by fishing in Azerbaijan.
The key to successful fishing is reliable tackle and equipment. Even if you forget about this possibility when collecting the baggage before coming to Azerbaijan, you can easily find all the things needed in local stores for fishing. So prepare fishing rod and jig, and move on to the Caspian seashore!
Common type of fishing in the Caspian Sea is at the offshore sites on stilts 1.5-2 km inward the sea.
Follow the advice to catch fish at the northern part of the Absheron peninsula to be sure in tasty fishing, as well as in Nabran and Yalama. Here you can find herring, mullet, Black sea roach or pigfish.
If you are among those who think that sweet water fish are more tasty, then travel to the regions.
In spring, water full of oxygen increases in the rivers and lakes with the snowmelt, which intensifies bio-life here. Fish come out of the deeps where they usually spend winter, and start activity, which include more movement and eating, preparing themselves to the upcoming spawning.
You will enjoy fishing on the Kur River catching Caspian roach, carp, and bream.
Then try the luck at Shirvan channel, and move to the Mingachevir and Varvara reservoirs -- site in the difficult of access places where fish prefer to stay. You can catch here a pike together with a big perch, silver carp, white salmon and stone eel. Such places are also inhabited by pikeperch and crawfish.
Here, you can also fish from a river boat, as well as with light rowing boats.
You can feast asp at the surface and chub, nerfling on the bottom. Fishing here may like record braking anglers.
Dams of the large rivers are of particular attraction being the place of exciting experiences for fishing. Here, you can find pike, sheatfish, large zanders, and up to 3 kg perches.
Irrespective whether you are big fan for fishing or experience this attractive amusement for the first time, you will surely remain pleased with fishing in Azerbaijan!