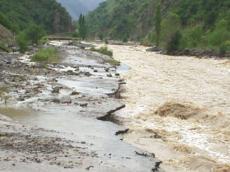 By AzerNews
Experts say some mountainous areas would be hit by floods during the next two months.
The National Hydrometeorology Department of the Azerbaijani Ecology and Natural Resources Ministry said some rivers in the mountainous areas would be stricken by short-term floods in April-June.
The prediction is based on the results of some scientific observation, as well as monthly and seasonal weather forecast information.
Back in February, the maximum temperature in the mountainous areas of the country reached to 12-15, and in some foothill areas to 13-18 degrees.
In the mountainous areas of Azerbaijan, the maximum temperature was recorded at 16-18, and in some foothill areas 19-21 degrees in March which led to the snowmelt and reduction of the thickness of the snow cover.
The Department said findings show that water reserves in the Greater and Lesser Caucasus is below than long-term norms by 37 percent. These reserves were reduced by 54 percent compared to last year. The lower boundary of the snow cover in the country is located at an altitude of 2,180 meters in 2014, while it was 1680 meters in 2013.
The forecasts indicate that the inflow rate from the Kura River to Shamkir reservoir is expected to reach to 52-66 percent in April-June. The rate from Ganikh River to Mingachevir reservoir to reach to the level of 55-82 percent, and from Araz River to Araz reservoir to reach to 30-47 percent of long-term norm.
The water content will make up 70-111 percent of the norm in rivers of the Greater Caucasus southwest slope (Balaken-Sheki), 51-85 percent in northeast slope (Guba-Khacmaz), 51-85 percent in the rivers of the Lesser Caucasus (Dashkesen-Gedebey), 38-77 percent in the rivers of the Nakhchivan Autonomous Republic and 36-75 percent in the Lenkaran-Astara region's rivers.
Based on the sharp increase of temperature, melting of snow in mountainous areas and heavy rains, the department predicts some short- term floods in the rivers of the Greater Caucasus's south-west slope (Balakenchay, Talachay, Kurmukchay, Kishchay, Shinchay), north-east slope (Gusarchay, Gudialchay, Velvelechay), in the rivers of the Lesser Caucasus (Ganjachay, Kurekchay, Shemkirchay, Goshgarchay) as well as in the Nakhchivan rivers (Nakhchivanchay, Gilanchay, Alinjachay).
The forecast by the National Hydrometeorology Department of the Azerbaijani Ministry of Ecology and Natural Resources plays an important role to minimize the damages of the floods to the population and the infrastructures, and to monitor closely the water level in the water reservoirs of the country.