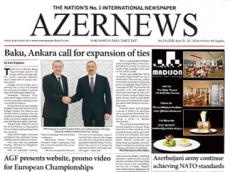 A new print edition of the AZERNEWS online newspaper was released on April 9.
The new edition includes articles about new energy scenarios of Europe and the role of Azerbaijan, the business views on the prospect of the Trans-Caspian project, Azerbaijani Army continues to achieve NATO standards, Armenia's separatist movements may contribute to the further isolation of this country and etc.
Also, in this issue you will get information that Baku will host the screenings of the contemporary German movies and fashion festival with participation of young designers.
AZERNEWS is an associate member of the World Association of Newspapers and News Publishers (WAN-IFRA).
The online newspaper is available at
www.azernews.az.