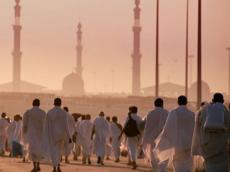 The start date and duration of Hajj pilgrimage in Azerbaijan this year have been publicized.
The Caucasian Muslims Board told
APA
that Hajj pilgrimage for Azerbaijanis will start on September 23.
One flight will be operated on the first day. Following this, two or three flights will be operated every day. The flights from Azerbaijan will last till September 28. Azerbaijanis will return from Hajj pilgrimage 5 days after Eid al-Adha – approximately on October 10.
Eid al-Adha will be marked in Azerbaijan on October 4-5.
The document admission for Haji pilgrimage in Azerbaijan was started on February 13.