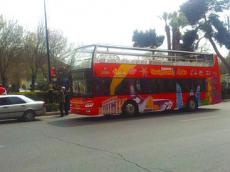 Double-deckers appeared in Baku streets.  
Day.Az
agency has made it clear that the mentioned buses are used to organize a walking tour in Baku.  
The tour duration is 1.5 hour. City walking starts from the Government House and marches up to the Bayil settlement. Currently, a price for tour ticket is 5 manat, but it is going to change after 3-4 days. So, the citizens willing to have a bus walking will have to spend 10 manats, as well as, 20 manat will leave pockets of foreigners along with 5 manat for pupils, students, invalids, while it will be free for the children under 6.
Working schedule of the tour buses - from 11:00 to 20:00.