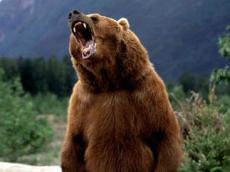 By AzerNews
A bear attacked and wounded a person in Azerbaijan's Shamakhi region.
Day.Az
reported that Sadi Huseynov, a 35-year-old resident of Shamakhi, was attacked by a bear.
The victim said he was returning home from the Talyshnuru village when it happened. The place where he was attacked is surrounded by dense forests.
Huseynov said the bear suddenly appeared and attacked him, inflicting injuries of varying severity on him. Managing to escape, he called his relatives who took him to the Central hospital of Shamakhi.
Agasultan Nuriyev, a surgeon at the hospital, said Huseynov's state is bad, because he's lost a lot of blood.
Earlier, a bear wounded two people in the Keshmedin village of Shamakhi.
Brown bear is an ordinary forest dweller that rarely appears in lowland forests. Brown bears are concentrated mainly in the upper forest belt. The first heavy snow in late autumn or early winter usually drives them into their den. Healthy and well-fed bears lie in dens in late December which they arrange in caves, piles of fallen trees, and then fall asleep until spring.
Bears awaken in early spring. Adult bears wake up first and go hunting. If a bear wakes up early, it can be a big threat to the person who has awakened him and those who live near its territory.