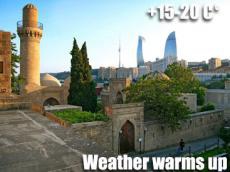 Starting with slightly misty morning the day is going to have volatile cloudiness and generally no precipitation, the National Hydrometeorology Department of the Ministry of Ecology and Natural Resources forecasts. Moderate southern blow will gain strength off and on. The temperature will be +2-6C at night and +15-20C in the noon.
As the domination will be on side of rainless weather, fog is not excepted in some regions at night and in the morning. Southern wind to blow and infrequently intensify. The temperature will be +0-5C at night and +12-17, while -5-10C mountains at night and +2-7C in the noon.
Soft fluctuation of the meteorological determinants will be suitable for meteosensitive people on April 1 and 2. They can feel reversely due to strong Khazri wind on March 3.

/Eco.Gov.Az/