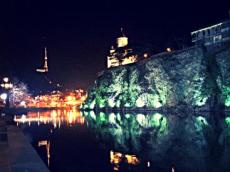 By Mushvig Mehdiyev
As Novruz holiday came and seven non-working announced in Azerbaijan,
Today.Az
decided to make use of that days. After delving into destinations to choose, we opt for Tbilisi, the neighboring city relevant to our time and pocket volume. Suitcases were prepared, all needed things were taken and our trip started.
Going to Tbilisi is a long way that goes through Motherland Azerbaijan, from east to the far west of the country. It was astonishing to see Azerbaijan's awakening nature inspired by spring freshness. Gradually changing landscape, weather condition gifted us a mixture of feelings we have never had before.
Finsihing the road adventure inside Azerbaijan by reaching Gazakh land, we felt magnificent moments waiting for us on the other side of the custom checkpoint. We accomplished all needed procedures to enter Georgian land and the time of amazing adventure began.
Nearly an hour we spent to reach Tbilisi. The city welcomed us at last. As Bakuians and the lovers of Baku, we found Tbilisi picture different from the City of Winds. Highland capital city of Georgia presented multi-sided beauty to enjoy. Modern cityscape, ancient signs, natural image go on a perfect marriage in the city. The Kura river that divides Tbilisi in two parts adds peculiar beauty to the brilliant city of the Caucasus.
Tbilisi is the city of free souls, colorful thoughts. It can simultaneously satisfy the lover of the modernity and antiquty. Castles, churches, old buildings, streets with antique signs are undoubtedly what an oldness lover wish to see.
The mountainous city of Caucasus is the home of monuments. Stone-made David the Builder, Saint Geroge, general Bagrationi, Kartlis Deda, King Gorgaseli, Shota Rustaveli add uniqe might to the city. We called Tbilisi the city of monuments as enjoyed that constructions during the city walk.  
The laudable cleanness of Tbilisi shows the deep care to the city. Most of the streets are tidy, relevant institutions responsible for city cleanup do their job very well. As well as, traffic jam is seldomly met in the city.
Modernity gets along well with Tbilisi. Brand hotels, contemporary buildings, modern city ambiance, people with modern look paved the way to feel ourselves free. Tbilisi nights are extremely buoyant, as if the city sleeps in the noon and wakes up at night. Different entertainment clubs, restaurants, cafes make the time amused. Its rarely posssible to feel bored when you are in Tbilisi at night.
Sightseeing in Tbilisi pulled us into a hard choice to make. Really difficult to choose the place to visit first. Ropeway, Mtatsminda park, Freedom Square, Abonatubani, Sulphur baths, Ortachala, Marjanishvili street, the Ferris wheel have to be visited, because they keep Tbilisi soul alive.
Georgian cuisine deserves a lot of good words. Country's world-wide famous khachapuri is the first choice to please the taste. One thing to put emphasize on is the cheap prices for the eatings in the menu. Order a list of meals, drinkings and you will not empty your pocket. Having breakfast with the khachapuri adjaruli would gift you the taste you have never had, we bet. Tasty and flavored Georgian tea is a nice addition to have next to the eating.
We felt proud when saw the head office building of our SOCAR in Tbilisi. As you know SOCAR has great operational field in Georgia including energy, gas, oil stations. A Maiden Tower shaped building of SOCAR enlivens lovely Baku in the middle of Tbilisi.
Every day we spent in the graceful capital of Georgia proved we made a best decision for our holidays. It became an unforgettable memory to recall. To have such a beautiful city adjacent to the native land is a kind of luck we think. If you want to have some changes in your life, doesn't matter how long, visit Tbilisi, get familiarized with that beautiful, peculiar, buoyant, hospitable city. Today.Az vows you'll not be regret to spend the time there.
Finally we want to say: "Thanks a lot, Tbilisi, you deserve our love and respect!"