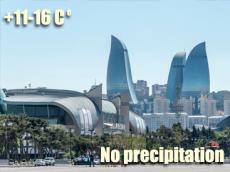 No precipitation is forecasted in Azerbaijani territory tomorrow, the National Hydrometeorology Department of the Ministry of Ecology and Natural Resources reports.
Volatile cloudy sky and chiefly fry weather in Baku and Abhseron peninsula will see slight mist in the morning. Soft southern wind to intensify off and on. The temperature will be +3-5C at night, +11-16 C in the noon.
Generally rainless weather will be foggy in several zones. The temperature will be +5-10C at night, +15-20C, while from -2C to +3C in the mountains at night, +8-13C in the noon.

/Trend/