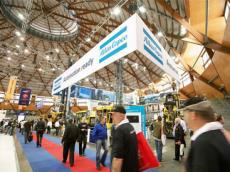 A delegation of Azerbaijan`s Ministry of Culture and Tourism has participated in the Art and Museum International Exhibition Exchange (AIMEX) in Torino, Italy.
During the trip, the Azerbaijani delegation met Mayor of the City of Torino Piero Fassino to discuss the cultural cooperation.
Piero Fassino said he was interested in establishing the experience exchange and partnership among museums of Azerbaijan and Turin.
The AIMEX is the first European marketplace connecting culture to business for the development, exchange and co-production of cultural events and exhibitions.
AMIEX is not a fair, a show, or a festival: it is business matching, a place where the local and International "demand" and "offer" of the sector can meet. The event also challenges training opportunities on topics and some most innovative case histories.AMIEX workshops provide training and knowledge sharing. The main conference will be held on the opening day, followed by a rich two-day programme stimulated by six specific meetings and some other "hot" topics related to the exhibition market, and case history presented by the protagonists.
Indeed, AMIEX reflects the needs by the cultural operators, who have long thought about doing system and finding some specific opportunities to discuss and share ideas.
AMIEX takes care of whatever is happening beyond the national borders: in fact, there are a
selected number of foreign Museums and international exhibitions that will bring their experience and active participation in the event.
The first edition takes place in Turin, where the cultural strategies have become one of the city transformation process strengths, changed the territory and made it an international reference model.

/AzerTAc/