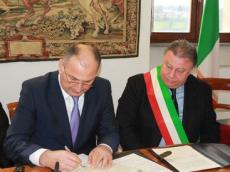 Azerbaijan`s Goychay and Italy`s Valmontone have signed a sister relationship agreement.
The agreement was inked by head of Goychay Executive Power Mansur Mammadov and Valmontone Mayor Alberto Latini.
The agreement will see the two cities enhance relations in educational, economic, social, cultural, art, and sport fields, and they will also encourage information and experience exchange.
Speaking prior to the signing ceremony that took place at Palazzo Doria in Valmontone, Mr. Latini recalled last year`s visit to the city by a delegation from Goychay. He said Goychay was a door to the East for Valmontone, while his city was a door to Europe for Goychay.
Mr. Mammadov stressed the importance of building relations between the two cities in the fields of agriculture, education and culture. He said Goychay was known for its pomegranate, noting the industry has enjoyed rapid growth in recent years. He said Goychay hosted an annual pomegranate festival, and proposed to organize it together with Italian cities. "This will give impetus to developing relations between our peoples."
Azerbaijani Ambassador Vagif Sadigov praised Azerbaijan-Italy relations in economic, educational cultural and humanitarian areas.
In Valmontone, Azerbaijan`s delegation will visit several social, agricultural and industrial facilities.

/AzerTAc/