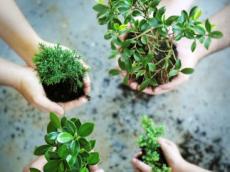 By AzerNews
A multi-annual project in Azerbaijan titled "Plant a Tree. Give a Gift to Life" was launched on February 27.
Launched by Coca-Cola Company and Azerbaijan's ADA University, the project aims to benefit the ecosystem, and promotes a massive afforestation and reforestation in the designated areas of the country to preserve and replenish fresh water resources in Azerbaijan.
The partners will plant 100,000 trees by 2020.
The initiative is supported by the Azerbaijan's Ecology and Environment Ministry.
Azerbaijan is considered a country with less forest cover; forests account for 11.4 percent of the country's territory, two times less than the accepted global average.
Reforestation is one of the main priorities of the Ministry's agenda.
The proposed project, which envisions the planting of thousands of trees, was initially designed to start in Baku. It will be fully funded by Coca-Cola and implemented by the Caspian Center for Energy and Environment of ADA University.
"Water is the key to our sustainability; it is critical for the health and economic prosperity of local communities," Galya Molinas, President of Turkey Caucasus and Central Asia business unit of Coca-Cola said.
"As Coca-Cola has acknowledged, by planting trees within the framework of the 'Plant a tree, Give a gift to life' program we hope to contribute to the resolution of different ecological issues, such as water replenishment, soil erosion, and air pollution. It is a tradition to plant a tree on Novruz and we are happy to launch the program right before this very special holiday for Azerbaijanis".
Beyond action on the ground, the project aims to raise public awareness in the country through different outreach activities, research works, and scientific publications. Volunteers will also be involved in the project.
"I see a lot of similarities between planting and caring for a tree, and having new students and fostering them at a university," Elnur Soltanov, Chair at Caspian Center for Energy and Environment, said in his speech.
"In both cases, we do our best to support a fledgling potential which will eventually grow and benefit us all several times over. Both provide the highest possible moral rewards one can imagine."
The project envisages the use of drip irrigation, which will save huge amounts of scarce and precious fresh water in the country. Saving water by planting trees is a highly efficient and popular mechanism widely considered in at least 1/3 of the world's biggest cities such as New York, Singapore, Madrid, Rio de Janeiro, and Cape Town. The forests will have a positive affect on water management by increasing rainfall and runoff, regulating flows, reducing erosion and floods, sterilizing water supplies, and improving overall water quality. The trees also provide shade for shorter bushes and lawns, helping to reduce short plants' demand for water.
Besides preserving and replenishing water resources, trees prevent air pollution, contribute to chemical cycles and water storage in the planet, and provide energy flow through the ecosystem.
Founded by the Azerbaijan Foreign Ministry and chartered by a Presidential decree, ADA is dedicated to preparing innovative global leaders and promoting useful collaborative research on diplomacy, public and international affairs, business, humanities and sciences, information technologies, and system engineering.