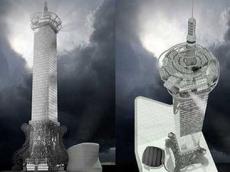 One more magnificent business center is being built in Baku. 
The building titled "Baku Tower" is being constructed near the Shafa stadium on Heydar Aliyev avenue in Baku.  
Construction work is being carried out currently. Foundation of the building has already been laid.  
The facility will have 242-meter height and 49 storeys. Thereby, it is going to be among the highest buildings in Baku.
The contractor of the project is "Azinko Holdinq" LLC, founder is "Azvitil Tikinti" LLC. The project of the center has been developed by "Arxin-M Ltd". 
Famous Turkish architector Eren Yilmaz is the author of the project. 

/Lent.Az/