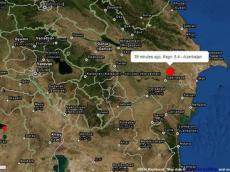 By AzerNews
Predictions of earthquakes in Azerbaijan are groundless, the Institute of Geology of the National Academy of Sciences (ANAS) reported.
ANAS corresponding member Fakhraddin Gadirov said, the Institute jointly with U.S. scientists has been conducting monitoring of the Caucasus region, and the Caspian Sea, as well as studying processes underway in the depth of the Earth, for 16 years by means of stations and points of Global Positioning System (GPS).
The scientists published results of the researches, conducted from 1998-2010 and describing geodynamic process in the Eastern Caucasus, in an article in the "Natural Hazard" journal in 2012.
In this article, the scientists gave detailed information about deformation processes caused by compression of the earth's crust in Kur lowlands, Absheron peninsula, and especially in Baku. It was noted, that the powerful energy accumulated in this area can be dangerous for settlements and oil infrastructure around Baku.
However, the article published in the "Natural Hazard" was translated incorrectly and caused anxiety. After that, the scientists clarified the issue.
An earthquake of 5.7 magnitude on the Richter scale that hit Azerbaijan's Saatli region on February 10, fully conform to the joint researches by the Institute of Geology and U.S. scientists.
Following the earthquake in Saatli region, the Republican Center of Seismic Service of ANAS also rejected reports that a strong earthquake will hit capital city of Baku.
The center is currently monitoring seismic conditions in the country with the help of 35 telemetry seismic stations, and all the information about earthquakes is public.
No country in the world has an accurate prediction of earthquakes and their strength yet, the center said. To date, the seismic situation in Azerbaijan after the earthquake is calm, and no aftershocks of the recent earthquake were observed.
Azerbaijan is located in a seismically active zone, which faced over 6,000 earthquakes in 2013, and only four of them were sensible. This year saw four notable quakes so far.