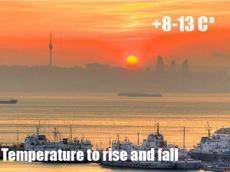 The National Hydrometeorology Department of the Ministry of Ecology and Natural Resources informs that despite the variable cloudy, interruptedly gloomy and chiefly rainless weather in Baku and Absheron peninsula on Feb. 18. Soft south-western wind to intensify off and on. The temperature will be +3-5C at night and +8-13C in the noon.
Not taking into account the mist in several eastern regions at night and in the morning, the main course of the weather is expected to be dry in the main. Western wind to waft and strengthen. The temperature will be from +1-6C at night and +11-16 in the afternoon, while 0-4C in mountains at night and +5-10C in the noon.
The great fluctuation of atmospheric pressure in Abhseron in the next 2 days, replacement of interruptedly strengthening southern wind with strong northern blow on Feb. 19 will make meteosesnsitive people feel uncomfortable.
Temperature will fall about 4-6 degrees on Feb. 19 and be +2-6C at night and in the noon. Rainy weather to be observed across the country on Feb.19.

/Eco.Gov.Az/