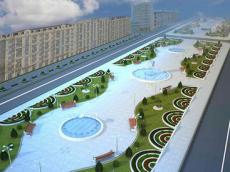 Work on construction of a large parking lot in K.Rahimov street in Baku's Narimanov district is close to completion. 
Department head of Narimonov district's EP Huseyn Jafarov reported on the matter.  
According to him, the underground parking lot will be 2-storey. It is desingned for 800 cars. Modern air conditioning and fire alarm system will be installed there.
Jafarov noted that a park will be laid above the parking. That recreation corner will be built along K.Rahimov street and stretch from F.Khankoyski street to H.Aliyev street. It will be the extension of the park's first part, which has been built and commissioned last year. Modern lighting system will be installed, as well decorative trees and shrubs will be planted there. People will find all necessary conditions for perfect recreation in the park, said Jafarov.  
Park and parking lot will be simultaneously put into operation this year. 


/Day.Az/