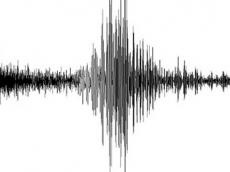 By AzerNews
Azerbaijan was jolted by a strong earthquake of 5.7 magnitude on the Richter scale. The quake came after over 500 minor ones hitting the country in recent months.
The quake took place at the depth of 55 kilometers in the northeast Hajigabul region and lasted for about 30 seconds. It was followed by strong tremors across Azerbaijan and even abroad measured three to five magnitudes on the Richter scale.
The strong quake was rare in this region of the country. Fortunately, there was no report on the casualties or damages. Aftershocks were also expected but to date the situation is calm.
Head of Republican Seismological Service Center of Azerbaijan National Academy of Sciences Gurban Yetirmishli believes, a new earthquake - if happens - will not be as strong as the first one.
"Saatly, Imishly and Hajigabul have experienced weak earthquakes in the past but a 5.7 magnitude on the Richter scale is rare," he said.
Yetirmishli said earthquake in this region was unexpected because this zone is not seismically active.
Republican Seismological Service Center of Azerbaijan National Academy of Sciences produce the seismic activity map annually according to which the most seismically active zone in Azerbaijan is Shamakhi-Ismayilli in terms of the number of earthquakes and the energy released. The list also includes Ganja and Talish regions.
For the last month, some 3 to 4 notable earthquakes jolted Azerbaijan including quakes in the Caspian Sea. One of the Sea's quakes took place this year with 5.1 magnitude on the Richter scale.

No short-time predictions
Some sources predict more strong earthquakes in Azerbaijan this year. Yetirmishli said it is impossible to give a short-time forecast including epicenter, time and strength of earthquakes.
"Azerbaijan is located in a seismically active zone. It faced more than 6,000 earthquakes last year. About four of the quakes were measured on three to four magnitude on the Richter scale. This year we had four notable quakes," he said.
The quake in Hajigabul lasted about 30 seconds that is longer than the last strong earthquake in Azerbaijan, on November 2000. It was measured 6.2 magnitude on the Richter scale in the epicenter and lasted 12-13 seconds.
The depth of the last quake was also notable as onshore earthquakes in Azerbaijan usually take place in 15-25 kilometers depth. Both earthquakes in Baku in 2000 and in north-west Zaqatala region in 2012 left heavy casualties and damages.
"Deep earthquakes usually have bigger radius of shake more violently but leave less damages, while superficial quakes are more dangerous," he noted.
Risks and consequences
Earthquakes horrify most people with their aftermath. The last strong quakes in Zaqatala caused serious destructions, while Baku escaped heavy damages.
Yetirmishli believes that buildings in Baku could stand quakes of 8-9 magnitude on the Richter scale.
"Predictions are useless. Buildings must be built in a way to stand possible earthquakes. So, efforts must be stepped up to make stronger buildings. It is more important to think how to minimize destruction risks, rather than to make groundless forecasts," he stressed.
Human factor
Strong earthquakes are rare in Azerbaijan. That is why most people don't know how to act during the tremors which may take lives. There are still no educational courses on earthquake to raise public awareness.
"It is necessarily to show and to explain practically how to behave during earthquake in schools and in kindergartens," Yetirmishli said.
By taking safety precautions and remaining cold-minded during and after the quakes, one person can help not only himself, but also injured ones.
To prevent injuries indoors, it is important to find a safe location in a doorway or beneath a table, away from hazardous objects. Cover one's head and eyes is also recommended.
You can also run out but do not use elevator. Outdoors, stay in open areas away from buildings, power lines, and trees. If driving, stop the car in a safe place away from bridges and overpasses, but remain in the vehicle.
After the tremors, be prepared for aftershocks. Do not enter a building that has visible cracks in the walls. Turn off electricity, gas, and water and wear shoes and cloth that will help to avoid injuries. Be cautious, do not panic and give a hand to those who need help.