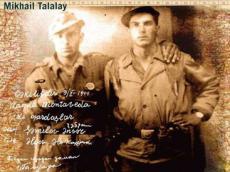 By AzerNews
A book highlighting Azerbaijan's role in the Italian resistance movement during the World War II was presented in the Italian city of Bergamo.
The presentation of the book called "From the Caucasus to the Apennines; Azerbaijanis in the Italian Resistance Movement", written by Mikhail Talalay and published by the Sandro Teti Publishing House, took place at the Mayor's Office.
The event, co-organized by Azerbaijan's Embassy in Italy, Sandro Teti Publishing House, and Bergamo Mayor`s Office, brought together Italian scientific and business figures and media representatives.
Addressing the event, founder of the Sandro Teti Publishing House Domenico Sandro Teti and Mayor of Bergamo city Franco Tentorio highlighted the importance of the book, saying that it contributed to the relations between the two countries.
Azerbaijani Ambassador to Italy Vagif Sadigov, in turn, said the publication of the book would contribute to developing bilateral relations between Azerbaijan and Italy and highlighting the history of the countries' relations.
Professor of Bergamo University Ugo Persi, Vice President of Bergamo branch of National Association of the Italian Partisans Ornella Ravalia, and Deputy Mayor of the Monte di Nese Doriano Bendotti also spoke at the event, emphasizing the importance of the book in terms of increasing the awareness of young Italians about relevant issues.
The book features photos and comprehensive archival materials.
Azerbaijan, which was part of the USSR along with the entire Soviet Union, joined the World War II on June 22, 1941. Germany paid special attention to Baku oil deposits and wanted to take control of Azerbaijan's capital during the Battle for the Caucasus. Over 600,000 Azerbaijanis participated in the War.
Azerbaijan also participated in the Resistance during the World War II. Thus, an Azerbaijani partisan detachment led by Huseynrza Mamedov, the "Ruska Cheta" partisan detachment led by Javad Hakimli, the 8th Azerbaijan partisan detachment called "Red Partisan" led by Mammad Aliyev, and the ASSR and its subversive group "Pravda" led by Mammad Isaev operated in France, Italy, Crimean, and Byelorussian SSR respectively.