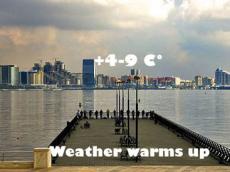 The National Hydrometeorology Department of the Ministry of Ecology and Natural Resources predicts cloudy, intermittent drizzly weather in Baku and Absheron peninsula on February 11. Soft north-eastern wind to blow. The temperature will be +1-4C at night and +5-9C in the noon.
The weather is going to be chiefly dry, nevertheless some eastern regions will face haze. Some other regions will have misty day. Eastern wind to waft. The temperature will be from -2C to +3C at night and +6-11  in the afternoon, while -2-7C in mountains at night and +3-8C in the noon.
Meteosesnsitive people can enjoy the normal daily course of meteorological determinants in Absheron peninsula during the next 2-3 days.

/Eco.Gov.Az/