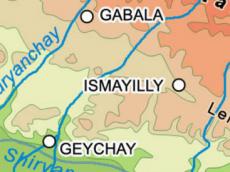 The second earthquake has hit Azerbaijan's Ismailli district today at 14:43:44 local time, according to the Republican Seismic Service Center of Azerbaijan National Academy of Sciences (ANAS).
The earthquake occurred 15 kilometres west of the Pirgulu settlement.
Tremors measuring four points were felt at the epicentre, and three points in the nearest settlements.
There was no destruction.
The first earthquake measuring four points occurred in the Ismailli district at 15 km west of the Pirgulu settlement on Monday at 7:51:33 local time, the center earlier told Trend.
The city of Ismailli is located in the north-east of Azerbaijan, 174 kilometres from the capital Baku.

/Trend/