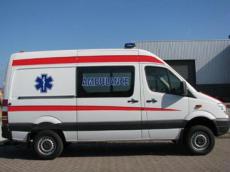 By AzerNews
A project titled "Mobile Clinic" will be implemented in four cities of Azerbaijan on February5-12, aimed to promote healthy lifestyle among the youth, Project Manager Rashad Chobanli told AzerTag state news agency.
The "Memorial" clinical medical centre with the financial support of the Youth Foundation under the president will implement the project in Baku, Ganja, Shamakhi and Guba.
The project is also aimed to diagnose the overall health of teenagers and young people and inform young people about infectious diseases in accordance with the provisions of the State Program "Azerbaijani youth in 2011-2015".
Within the project medical stuff from physicians of the "Memorial" clinical medical centre and medic-students will hold consultations for young people. Furthermore, a questionnaire will be held to study the general health of young people, as well as awareness of young people about the common diseases, the importance of a healthy lifestyle and a complete diagnosis of the organism.