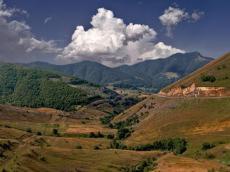 Italian "Lindro" news portal has issued an article on the Armenia-Azerbaijan Nagorno-Karabakh conflict.
The article provides an insight into a history of the conflict, as well as recent ceasefire violations.
The article notes that Armenian armed forces have occupied 20 percent of Azerbaijan`s territory, including Nagorno-Karabakh and seven surrounding regions.
The newspaper draws attention to the ceasefire, signed in 1994, saying it is periodically violated.
The author also stresses that long-standing efforts by US, Russian and French mediators have been largely fruitless so far. Ongoing negotiations to settle this conflict peacefully not yield any results.
The full text of the article is available at: http://www.lindro.it/politica/2014-01-16/115047-i-confini-caldi-di-caucaso-e-asia-centrale

/AzerTAc/