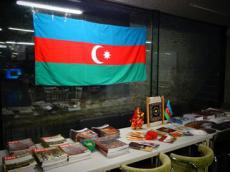 The Day of Azerbaijan has been held at the College of Europe in the city of Bruges, Belgium.
The event was aimed at promoting Azerbaijan`s culture, national values, music, dances, cuisine and history.
The event participants tasted national candies, and enjoyed Azerbaijan`s traditional music and dances performed by the Azerbaijani students studying there.
The event was attended by professors, teachers and students of the higher educational institution.
For many years, Azerbaijani students have come to Belgium to study, thereby promoting educational and cultural exchange between the two countries and with EU institutions. There are currently 4 students from Azerbaijan at the College of Europe studying at postgraduate level.
The College of Europe founded in 1949 in Bruges (Belgium) and in 1992 in Natolin (Warsaw – Poland) is the oldest and most prestigious institute of postgraduate European Union Studies.
The College of Europe is the most genuinely 'European' of all the university institutes of European studies: it attracts a highly qualified pan-European faculty and welcomes students from across the entire continent and further afield; it enjoys a truly European atmosphere on its Bruges and Natolin (Warsaw) campuses, and it can draw from its unique network of personal and institutional relationships developed, throughout Europe and beyond, over the past 63 years. As the careers of many of its alumni illustrate, the College degree opens up rewarding professional prospects in Europe and even worldwide. 

/AzerTAc/