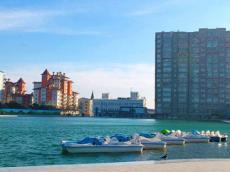 By Mushvig Mehdiyev
Baku - the city of sustainable development continues to be more beautiful day by day. Various facilities and sightseeings such as the Flame Towers, Highland Park, Winter Boulevard, little Venice, Flag Square etc. decorates the city by making its modern face smile.
Recently, one more distinctive site opened for the comfort of Baku citizens and guests. The Dada Gorgud park named after the ancient historical personality of Azerbaijan is much more different from others with the artificial lake created there. Reflection of sunshine on the pure lake water, calm atmosphere, fresh air, copy of natural beauty are what one can encounter at Dada Gorgud park. City people have been flocking there since the site's opening day. Wish Baku to continuously grow and develop to let us feel proud of our unique city of modernity and antiquity
Today.Az invites you to visit the park through the photos and appreciate the novel beauty.
Photos by Day.Az