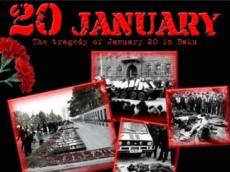 'Friends of Azerbaijan in South Africa' non-governmental organization has published an article "The Tragedy of 20 January of 1990 of Azerbaijani people in the hearts of South Africans", dedicated to the 24th anniversary of this tragedy.
The article, published on initiative of the Azerbaijani Embassy in the Republic of South Africa, was posted on the organization's website.
The article's author speaks about the history and causes of the January 20 Tragedy, the embassy told Trend.
The author also compares this tragedy with the tragedies that took place in the RSA during the apartheid period and stresses that the two countries walked similar paths to freedom.

/Trend/