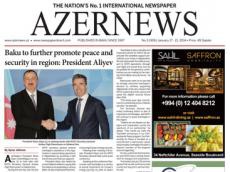 AzerNews wishes its readers a very happy new year and invites them to enjoy its new look. AzerNews has changed the design, outlook and font, in an effort to make reading the newspaper or web site a more enjoyable experience.
AzerNews' new look features a bright design and new, useful and interesting columns and topics, including a daily horoscope.  Join AzerNews and you will always be up to date on what is happening in Azerbaijan and the region.
A new print edition of the AzerNews online newspaper released on January 17 includes articles about diversification of the Azerbaijan economy in 2014, alarmingly high level of road accidents in the country, the preparation for the transition to the ecological standard Euro-4, the situation with food poisoning, as well as about exciting new travel of Azerbaijani cyclist and etc.
AZERNEWS is an associate member of the World Association of Newspapers and News Publishers (WAN-IFRA).
The online newspaper is available at
www.azernews.az.