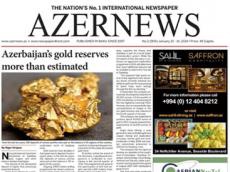 AzerNews wishes its readers a very happy new year and invites them to enjoy our new look. We have changed our design, outlook and font, in an effort to make reading the newspaper or our web site a more enjoyable experience.
Our new look features a bright design and new, useful and interesting columns and topics, including a daily horoscope. Join us and you will always be up to date on what is happening in Azerbaijan and the region.
A new print edition of the AzerNews online newspaper released on January 10 includes articles about speedy growth in the birth rate in Azerbaijan, the cost estimation for the implementation of TASIM project, the effects of the recent fuel price rise on Azerbaijan's economy, projected open-air museum in Azerbaijan's ancient city Nakhchivan, the thoughts of Jeffrey Werbock, who has worked for over 30 years to study Azerbaijani Mugham, about this magnificent music, enjoyable fruit horoscope, as well as about how fashion impacts the life of the people in the contemporary world and etc.

AZERNEWS
is an associate member of the World Association of Newspapers and News Publishers (WAN-IFRA).