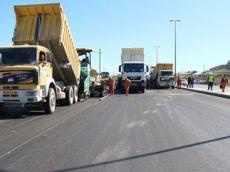 The '"Azeryolservice" JSC of Azerbaijan's Transport Ministry is investigating the final variant for building road that will lay parallelly to Ziya Bunyadov avenue, as well as the underground road to "Koroghlu" metro station and olympic stadium in Baku.  
A report released by the JSC informed on the matter.  
As reported, the work has been launched to build tunnel to the olympic stadium under the primary draft. 
The parallel road will start from the end of Hasan Aliyev street and lay up to the new stadium. Construction of number of tunnels, road junctions, pedestrian passages and bridges are envisaged within the project. Demolition of all impeding facilities has been completed and transfer process of the communication is currently underway.  
The novel road will ease the traffic on Heydar Aliyev avenue, while be comfortable way without traffic jam from the city center to the new stadium, says the report. 

/Trend/