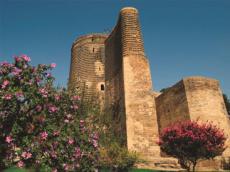 By AzerNews
Maiden Tower, a historical symbol of Baku dating back to the ancient times, opens its doors to visitors from January 2 after major conservation works.
Maiden Tower's restoration works started in April 2011. The tower has been closed to visitors since January 2013. It now has a new museum exhibition.
Baku citizens and tourists can evaluate the work carried out in one of the most recognizable monuments of the city every day from 10.00 a.m. to 6.00 p.m.
After the restoration, the 28 meters high monument on the Caspian Sea coast acquired its historical appearance. The tower has been a UNESCO World Heritage Site since 2001.
The restoration works on the facade of the tower was carried out by Austrian company Atelier Erich Pummer, which has restored over 400 monuments throughout the world, including the Mosque of Muhammad in the Old City.
Scientific researches were also carried out to study the history and purpose of the mysterious tower.
Some historians say it was used as an observatory by ancient astronomers during the rule of Seljuq dynasty in Azerbaijan, while others say it was an important part of the city's defense system during the rule of Sasanian Empire.
The most compeling theory suggests that it was built as a Zoroastrian temple used for fire worshipping, sacrifice rituals and other religious ceremonies.
Creation of a modern museum exhibition that meets international standards to answer all the previously unknown issues began last October.
The museum, created with assistance of experienced professionals "DD Expo", will provide the visitors with information about the history of the Maiden Tower, its internal structure, and hypotheses about the purpose of its construction, as well as legends and other interesting facts.
Beside the captivating historical information, the tower also provides its visitors a panoramic view of the ancient Old City and the developing modern Baku.
The reconstruction works at the Maiden Tower were conducted under an approved plan of Azerbaijan's Cabinet of Ministers on the restoration of historic sites of Baku.
Extensive conservation and restoration works on historical monuments in the Old City became possible thanks to the attention of President Ilham Aliyev to the national cultural heritage of the country.
Azerbaijan first lady Mehriban Aliyeva, who is also the head of Heydar Aliyev Foundation, also plays an important role in in protection and promotion of Azerbaijani cultural values and heritage, including the Old City.