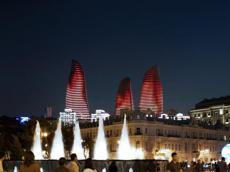 By AzerNews
The Azerbaijan National Committee of the International Council of Museums (ICOM) organized a conference on its role in protecting cultural heritage in Baku.
The conference was dedicated to the 20th anniversary of the ICOM Azerbaijan National Committee's joining the International Council of Museums.
Speaking at the event, Deputy Minister of Culture and Tourism Sevda Mammadaliyeva underlined the importance of the conference and touched upon Azerbaijan-UNESCO cooperation.
The Deputy Minister pointed out that UNESCO is one of the first international organizations Azerbaijan joined after regaining its independence.
UNESCO-Azerbaijan relations opened new avenues for the popularization of Azerbaijan's rich culture and achievements around the world, she said.
Mammadaliyeva highlighted the efforts of President of the Heydar Aliyev Foundation and UNESCO and ISESCO goodwill ambassador Mehriban Aliyeva in developing cooperation between UNESCO and Azerbaijan.
The Foundation plays a key role in protecting historical and cultural monuments both in the country and abroad, she said.
She noted that President of Azerbaijan Ilham Aliyev had signed over 15 orders to develop museums in Azerbaijan in recent years.
First secretary of the national commission of Azerbaijan for UNESCO Gunay Efendiyeva spoke about the cultural heritage protection projects implemented in the country, and read out the congratulatory letter from director of the UNESCO Moscow Bureau Denbev Badarcin on the 20th anniversary of the Azerbaijan National Committee.
Director of the Azerbaijani Carpet and Carpet Applied Art State Museum and Chairman of the ICOM Azerbaijan National Committee Roya Tagiyeva gave a presentation on the Committee's achievements.
In her presentation, Tagiyeva said the National Committee has done much work to develop international ties to Azerbaijani museums, acquire the best global practices, protect cultural heritage, and organize conferences and seminars.
The Committee also made every effort to safeguard Azerbaijani cultural heritage in the occupied Azerbaijani lands.
By joining the organization in 1992, Azerbaijan began cooperation with UNESCO with providing its member states with opportunities to benefit from the assistance of high-level experts and technical aids, as well as training scientific and pedagogical personnel and participating in global scientific projects.
UNESCOs' intangible cultural heritage list includes the Novruz holiday, Azerbaijani mugham, Azerbaijani ashug art, Azerbaijani carpet, and the music of Azerbaijani tar.
The main list of the UNESCO World Heritage sites in Azerbaijan includes the Old City of Baku with Shirvanshahs Palace, Maiden Tower, and the Gobustan Rock Art Cultural Landscape.
There is also a tentative list of UNESCO World Heritage sites in Azerbaijan which includes Lokbatan Mud Cone, Hirkan State Reserve, the Ordubad historical and architectural reserve, Sheki Khan's Palace, Surakhani Ateshgah Temple, the historical and architectural Susha reserve, the mausoleum of Nakhchivan, etc.
Day-to-day operational work on Azerbaijan's cooperation with UNESCO is carried out by the Permanent Secretary of the National Commission within the Ministry of Foreign Affairs in Baku and the Permanent Representation of Azerbaijan to UNESCO in Paris.