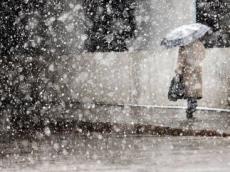 Today is going to be cold with changeable cloudy weather accompanied by interrupted rain which will turn into sleet in several places in Baku and Absheron peninsula. Gentle northern wind to blow.
The temperature will be nigh to zero while +2-4C in th enoon.
Intermittent precipitation along with sleet and snow is what expected in Azerbaijani regions. Western blow to be observed.
The temperature will be from -4C to +1C at night, +1-6C in the afternoon, while -10-15C and aup to -18-23C in the mountains at night and 0-5C in the noon. Roads will ice up.
/Trend/