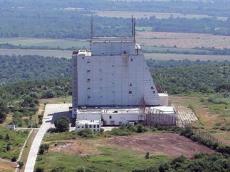 Azerbaijan National Agency for Mine Action (ANAMA) has started mine-clearing operations in the territory of Gabala radar station.
ANAMA Director Nazim Ismayilov told that basing on the report on mines found around the station, under the instructions of First Deputy Prime Minister Yagub Eyyubov, ANAMA officers inspected the site in August.
"The territory of the station is under the protection of Internal Troops. The soldiers detected 4 mines there. Our officers found 9 more mines there," he said.
ANAMA Director said the government has allocated funds for this purpose. Operations will start in 220ha area of the station and inside the buildings early next year, when the weather is favorable. The operations will last for 6-8 months.
"Special commission has been set up on Gabala radar. Various agencies are represented in the commission. Along with mine-clearing, radioactive situation will also be studied there," Nazim Ismayilov said.
Russia suspended the station's exploitation in December 2012, because Azerbaijan increased the lease payment. Azerbaijan demanded $300 million lease payment from Russia for the station.
The agreement on "The status, principles and terms of Gabala RLS between the Azerbaijani Government and Russian Government" was signed in 2002. Russia suspended the station's exploitation on December 10, 2012. Gabala RLS, established in 1984 as a missile defense system of the USSR, possesses the ability to take launch of ballistic missiles over the Indian Ocean - 6000 km radius under its control. Azerbaijan received USD 7m tenancy payment from Russia for the exploitation of this station.

/APA/