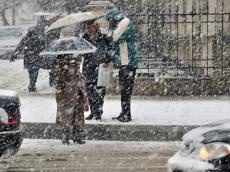 Frosty weather with precipitations will go on in Azerbaijan territory tomorrow. From December 12 night to 13 0-2 degrees of frost and black ice are forecasted in Baku and Ansheron peninsula.  
The wind velocity will gradually down in December 13 noon in Baku and Absheron peninsula. Nevertheless, precipitation periodically turning into sleet and snow will keep on. 
Foothills and mountainous Azerbaijani regions will see cold weather with -5-23C temperature. 

/Trend/