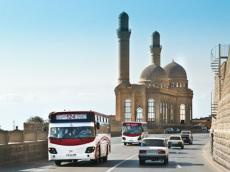 On the recommendation of Azerbaijani President Ilham Aliyev, Mustafa Subhi street in Sabayil district, Baku has been renamed as Nabat Ashurbeyova, Baku Mayor's Office told.
Head of Baku Mayor's Office Hajibala Abutalibov has signed the relevant order.
Mustafa Subhi (1888-1921) was a leader of the Turkish Communist Party and Nabat Ashurbeyova (1795-1912) was a famous Azerbaijani philanthropist. Teze Pir mosque was built on her personal funds. The graves of Nabat Ashurbeyova and her son Haji Abbasgulu are at the entrance of the mosque. Teze Pir mosque is located in the former street Mustafa Subhi, which has today been named after Nabat Ashurbeyova.

/APA/