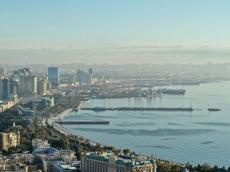 As the National Hydrometeorology Department of the Ministry of Ecology and Natural Resources reports,  the weather from December 9 night to 10 is expected to be misty, while the main course of weather is going to be mostly rainless, changeable cloudy Baku and Abhseron peninsula. An interruptedly strengthening south-western wind to blow. The temperature will be +0-4C at night, +6-19C in the noon.
Most of the Azerbaijani regions will have stable weather with no precipitation alongside a little rain in eastern and southern regions. Western wind to waft. The temperature will be from -2C to  +3C at night and +7-12C in the afternoon, while -3-8C and up to -10-15C in mountains at night and from +2-7Cin the noon.
The volatile, and strongly windy weather in Baku during next 2-3 day is deemed to be unsuitable for  meteosensitive people. 

/Eco.Gov.Az/