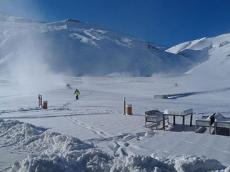 Azerbaijan welcomed the real winter, at last.
It is, usually, not expected in the warm capital city, it is unwanted guest here - on the seashore, among the palm-trees and countless vehicles. But far from the big cities, where mountains reign, winter feels itself as the queen of the nature.
The winter resort "Shahdag" that locates in Azerbaijan's Gusar region was embraced by thick white cover these days.
Sparkling snow in a harmony with the blue sky - fantastic picture worth to behold. And, maybe,  the people who desire to rest in the nature, enjoy the skiing and just see the real snowy winter will start to travel "Shahdag" from now on.

/Day.Az/