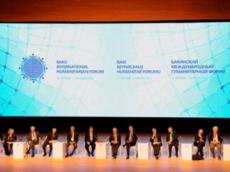 The Third Baku International Humanitarian Forum, opened in Baku on October 31, brought together Nobel Prize winners at the second part of the forum's plenary session.
The importance of science and education in the modern society was mulled at the session chaired by President of Azerbaijan National Academy of Sciences Akif Alizade.
Adressing the event,Alizade mentioned the forum's importance in today's world .
Speaking at the event Klaus von Klitzing, who awarded the 1985 Nobel Prize in Physics noted the importance of strengthening the UN for resolving the problems which warns the universe.
According to him, the world population has damaged the environment and the scientists and engineers should join efforts for preventing this danger.
The scientist also mentioned the importance to use renewable energy resources.
Other speakers included winner of the 1992 Nobel Prize in Chemistry Rudolph Arthur Marcus, winner of the 1995 Nobel Memorial Prize in Economic Sciences Robert Emerson Lucas, winner of the 1998 Nobel Prize in Physics Robert Betts Laughlin, co-recipient of the 2004 Nobel Memorial Prize in Economics Finn Erling Kydland, winner of the 2004 Nobel Prize in Physics David Jonathan Gross, winner of the Nobel Memorial Prize in Economics in 2004 Edward Christian Prescott, winner of the Nobel Prize in Physics in 2006 George Fitzgerald Smoot, winner of the Nobel Prize in Chemistry in 2006 Roger David Kornberg, winner of the 2009 Nobel Prize in Chemistry Ada Yonath, winner of the 2011 Nobel Prize in Chemistry Dan Shechtman, winner of the 2013 Nobel Prize in Chemistry Arieh Warshel as well as winner of the 2013 Nobel Prize in Physiology or Medicine James Edward Rothman.
Baku International Humanitarian Forum is a high-profile global scientific and political platform for tackling the challenges facing humanity in the 21st century, holding dialogue, discussions and exchange of views on a wide range of issues of humanitarian cooperation. It is an annual event that brings together outstanding representatives of political, scientific and cultural elite of the world, including well-known statesmen, Nobel Prize winners in various fields of science and heads of influential international organizations.

/Trend/