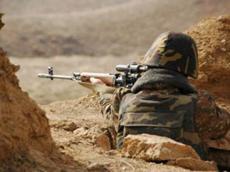 The Azerbaijani Defense Ministry reported that subunits of the Armenian Armed Forces shattered ceasefire with Azerbaijan in Yusifjanli and Shuraabad villages of Aghdam region, Goyarkh, Giziloba and Chilaburt villages of Tartar region, Gulustan and Tap Garagoyunlu villages of Goranboy region on October 30-31.
The Armenians were silenced with a retail fire, the Defense Ministry said.
Armenia occupied over 20 percent of Azerbaijan's internationally recognized territory, including Nagorno-Karabakh and seven adjacent regions, after laying territorial claims against its South Caucasus neighbor that caused a brutal war in the early 1990s. Long-standing efforts by US, Russian and French mediators have been largely fruitless so far.
As a result of the military aggression, over 20,000 Azerbaijanis were killed, 4,866 are reported missing and almost 100,000 were injured, and 50,000 were disabled.
The UN Security Council has passed four resolutions on Armenian withdrawal from the Azerbaijani territory, but they have not been enforced to this day.

/AzerNews/