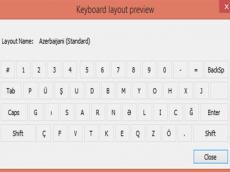 By AzerNews
A final version of the advanced language pack for the new operating system Windows 8.1 was approved in Azerbaijan.
The Ministry of Communications and Information Technologies approved the version, and the new language pack was submitted to the head office of Microsoft, Microsoft Azerbaijan said on October 28.
In the near future, the improved language pack which consists of more than 1,500 new terms will be integrated into operating systems such as Windows 8 and Windows 8.1, as well as in Microsoft Office 2013 and Microsoft Office 365.
The preparation of the new terms was done by a working group under the Ministry. The working group was created to eliminate the mistakes committed earlier during the localization of the operating systems and office suites.
The project also involved two Microsoft Certified Trainers.
Microsoft products, translated into the Azerbaijani language, currently include operating systems like Windows XP, Windows Vista, Windows 7, Windows 8, as well as office suites like Microsoft Office 2003, Microsoft Office 2007, and Microsoft Office 2010.
An interface of the Windows Phone was also fully translated into the Azerbaijani language.
According to Microsoft Azerbaijan, the new keyboard layout in Azerbaijani language is integrated into the next version of the Windows 8.1 OS.
The advanced keyboard layout was adopted by the ICT ministry as a new national standard.
The layout takes into account details such as speed dial and the distribution of the load on fingers, which may prevent the development of the carpal tunnel syndrome, one of the most common diseases of the wrist, Microsoft said.
The new keyboard layout will be used in Microsoft products, and may be eventually implemented into other operating systems.
The new layout is much more optimal in terms of convenience. It reflects all the nuances of the Azerbaijani language, which was not reflected in the current version.
The old version of the layout will also be available and people who are used to it will have a chance to use it further, Microsoft Azerbaijan said,
Microsoft Corporation which has been operating in Azerbaijan since 2005 is represented by seven experts, focusing on the interaction between public and private sectors as well as issues of humanitarian concern.
Microsoft Azerbaijan's main aim is to offer the latest products and software designs that would contribute to Azerbaijan's development through their introduction into e-government, business administration, and education.