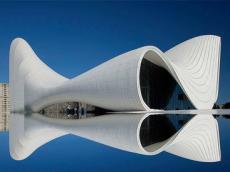 Baku will host an architectural presentation of the Heydar Aliyev Center on November 5.
The designer of the Heydar Aliyev Center, world-famous architect Zara Hadid as well as other famous architects from various countries will attend the presentation ceremony.
They will get familiar with the building of the Heydar Aliyev Center which has been recognized as one of the best architectural projects in recent years.
The event is considered a significant event in terms of emphasizing the role of the building of the Heydar Aliyev center in world architecture.
The Heydar Aliyev Center was established under Decree No.1886 signed by Ilham Aliyev, the President of the Republic of Azerbaijan, on December 26, 2006. The Center aims to conduct consistent activities in the field of profound research and broad promotion of the nation-building philosophy and Azerbaijanism ideology of Heydar Aliyev, the national leader of the Azerbaijani people, as well as encourage studies in the Azerbaijani history, language, culture, national and spiritual values.
The foundation of the building was laid on 10 September, 2007. The construction lasted five years. The official opening took place on 10 May, 2012.

/AzerTAg/