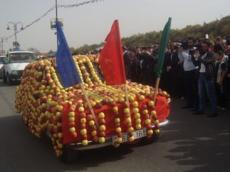 By AzerNews
The second annual apple feast was held at the culture and recreation park named after Heydar Aliyev on October 19 in Guba, northern Azerbaijan.
The heads of regions' executive bodies, intellectuals, MPs, Guba businessmen living abroad, as well as more than 100 foreign visitors had been invited to the event. Ambassadors and other diplomatic mission representatives of several foreign countries joined the event together with their family members.
The event started with a visit to the monument of national leader Heydar Aliyev.
Firstly, heralds marched along the square. Then, representatives of minorities living in the region who wore their national attire greeted the guests. A car parade of apples grown in Guba was of great interest to the visitors.
The "Ancient Guba" composition reflecting national traditions was demonstrated in a 6-hectare area, and various sweets, cocktails and drinks made of apples were presented to the event participants.
Stands featuring folklore, cuisine and the lifestyle of minorities living in the region particularly attracted the attention of foreign nationals.
South Korean Ambassador Choi Suk-inn expressed his satisfaction with the festivities.
"I got the opportunity to taste a Guba apple and liked it. Quite delicious. There is a great holiday atmosphere in the region," he said.
MP Vahid Ahmadov highlighted the special significance of the Apple Feast in the promotion of fruit growing. He noted that an apple is a symbol of Guba.
"This holiday is also important to identify new markets for the sale of apples," he said.
Nizamaddin Shamsizade, a PhD and Professor, stressing the high level organization of the Apple Feast, said this is not only a holiday of Guba residents, but also that of apple growers and those who benefit from this fruit."
The feast concluded with a concert of popular artists held at the newly commissioned Green Theatre.