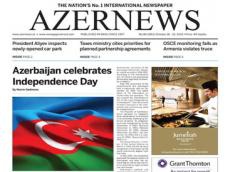 A new print edition of the AZERNEWS online newspaper was released on October 18.
The new edition includes articles about the celebration of Azerbaijan`s Independence Day, ADB's projections on Azerbaijan's primary energy demand, the development of a rocket fire system by Azerbaijani engineers, USACC's announcement of an upcoming seminar on cooperation perspectives for Azerbaijan and Silicon Valley, Azerbaijan`s applying the Euro-3 standard from 2014, Azerbaijani art samples in US museums,  the launch of an exhibition on Azerbaijan in Russia, the start of a sand and graffiti sculptures festival in Baku, etc.
AZERNEWS is an associate member of the World Association of Newspapers and News Publishers (WAN-IFRA).
The online newspaper is available at
www.azernews.az.