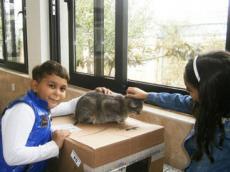 By AzerNews
The IDEA campaign (International Dialogue for Environmental Action) has organized a school trip to the Azerbaijan Animal Rescue Center (AARC) on October 4.
"World Animal Day is celebrated on October 4 all over the world. The IDEA campaign organized a trip of Azerbaijani school students to the animal rescue center in this connection. The main purpose of the measure was to inform pupils about the problems of homeless animals, to encourage them to take care of nature and animals," IDEA campaign's PR specialist Aishan Guliyeva said.
The animal rescue center operates with the support of the IDEA campaign.
During the visit schoolchildren were familiarized with the guidelines of care for homeless animals, the work and principles of the Azerbaijani animal rescue center, and were informed of the work done by the center clinic's doctors.
Primary school teacher Gulnara Orujova noted that this trip is of great importance.
"The pupils saw how the center's staff took care of animals. They talked to the staff and discussed the problems of homeless animals," Orujova said.
The IDEA campaign regularly organizes various activities and projects aimed at drawing public attention to the issues of environmental protection, unattended animals, etc.
IDEA is an international campaign launched by Vice President of the Heydar Aliyev Foundation Leyla Aliyeva on July 12, 2011 in Baku. Leyla Aliyeva saw quite clearly, through her youth work, that the environment was a key concern for young people in Azerbaijan as it is in the region and the world. The concern was real, but the path which young people could take to find out more, to network with others, and to mobilize for action was far from clear.
The beginnings of a government-led environmental investment program are discerned in Azerbaijan, with industrial clean-up, a strong National Parks project, mass tree planting, and the first moves into renewable energy.
IDEA is all about working with young people to put environmental awareness and action at the heart of family, community and national life.
The campaign is based on the principles of dialogue, action, leadership and education -- all essential ingredients for equipping a generation to bring about positive and sustainable environmental change.
The campaign carries out exchange of ideas through regular forum events and local groups -- both in Azerbaijan and internationally, participate in youth camps, events and specific environmental projects across the region, encourages and recognizes young leaders who can effectively spread the word and lead others in our environmental endeavors, provide resources to schools, groups and communities, empower them to protect their environment better.