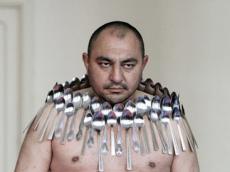 An Azerbaijani living in Georgia's Borchali region, Etibar Elchiyev Budagli, known as Magnetic man, has entered the Guinness Book of Records 2014.
APA's Georgia correspondent reports that Etibar Elchiyev ranked 5th and became the first Azerbaijani to enter the Book.
The magnetic man was announced as the Record-holder of the year in Georgia. He was awarded with certificates and medals in Italy, Germany and Beijing.
E. Elchiyev told that he hit record four times and was seriously prepared to hit for fifth time: "I'm preparing more seriously. I intend to raise nearly 150 kg of weight with my body".
According to tradition, Guinness Book of Records is prepared a year ago and its presentation is held as the new year starts.
/APA/