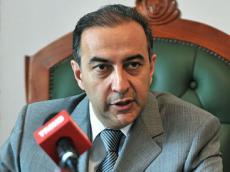 Today there are all the necessary conditions in Azerbaijan to carry out heart transplant surgery, Deputy Health Minister Elsever Agayev told Trend.
According to him, we can say this because of the infrastructure of health facilities and human resources.
Earlier, successful transplantation of other organs has already been held in several clinics of Azerbaijan he said.
The deputy minister stressed that the biggest problem in the issue of heart transplantation in the country and in the world is a shortage of donors.
Only five percent of the people pending heart transplant surgeries in the world can find a donor. For this operations, donors with brain death documentation are needed, as after that the donor's biological life ends. This, in turn, is often not accepted by the families of these patients, the deputy minister said.
According to him, the main way to solve problem of donors is transplant of an artificial heart. Such operations are conducted at leading transplant centers in the world.
In January 2013 the Central Clinical Hospital of Azerbaijan held successful operation to transplant an artificial heart. The patient lives with an artificial heart already for eight months.

/Trend/