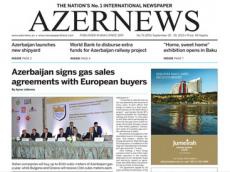 A new print edition of the AZERNEWS online newspaper was published on September 25.
The new edition includes articles about the opening of a shipyard in Baku's Garadag district, Azerbaijan's signing gas sales agreements with European buyers, U.S. readiness to contribute to refugee assistance projects in Azerbaijan, the World Bank's disbursement of extra funds for an Azerbaijan railway project, a water desalination plant on the Caspian coast which is ready for full-scale operation, an exhibition of "autumn sketches" in Baku, etc.
You can also get useful nutrition tips for pre- and post- workout during cardio training in the article of AZERNEWS weekly columnist Scott Fenwick.
AZERNEWS is an associate member of the World Association of Newspapers and News Publishers (WAN-IFRA).
The online newspaper is available at
www.azernews.az.